Gantt Chart Reference Kutterer
Despite increasing production and variety of products, the Russian polymer packaging company can now safely meet its delivery deadlines.

Excel did not keep pace with growing production
Kutterer Rus is a manufacturing company located just in the outskirts of Saint Petersburg in Russia. They specialize in producing components for aluminum and plastic tubes, as well as plastic packaging with in-mold labelling for the milk industry. Besides a shop floor it boasts a laboratory, instrument workshop and a warehouse. The company upholds high standards in its production processes, by using modern technology, which helps them close the gap in the polymer packaging industry in Russia. The company works hard to preserve its quality and high standards. It needs to control its production process to get specific certifications in different industries, especially in food packaging.
Previously Kutterer Rus used Microsoft Excel for its planning needs. However, this homegrown system could no longer cope with the requirements resulting from the company's growth. The equipment and number of machines, which needed to be planned, grew beyond what was easy to handle in Excel. In addition to this, constant changes in product specifications and varied completion dates made the Excel solution no longer scale. Hence, the company required a more specialized software. According to Vadim Rassolenko, the company's Finance Manager,
"we encountered a lot of issues over time as we saw our orders grow: These issues were e.g. conflicts in planning, missed delivery times, resources not being optimized. There were a lot of inconsistencies in our planning and operations, which needed to be addressed".
Migration to Dynamics NAV and Visual Production Planner
With the help of Naviserv, a Microsoft Certified Partner based in Saint Petersburg, Russia, Kutterer Rus has migrated its operations to Microsoft Dynamics NAV, where they now use NETRONIC's Visual Production Scheduler (VPS) on JavaScript as an add-in.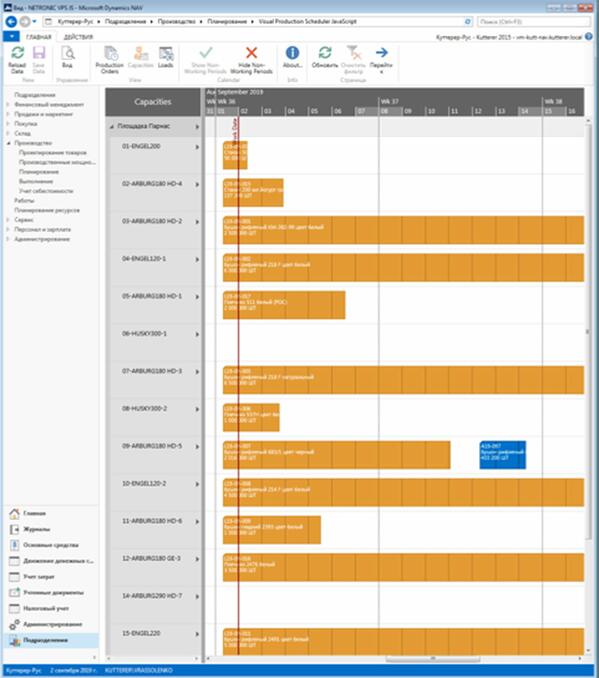 The company has one dedicated "master planner", who manages the entire schedule. They also have several schedulers working on-site, in their different work centers. Vadim says,
"The NETRONIC Visual Production Scheduler has brought our entire scheduling and the resulting execution process on a new level. The benefits for Kutterer Rus are manifold and tangible: We have been able to accurately plan our orders, and now consistently meet our deadlines. It is now more possible to give an accurate indication of shipping dates to our clients and this improved commitment has increased our customer's satisfaction by far. Thanks to the visual approach, we also can identify bottlenecks faster and make better use of our resources."
Fast communication with NETRONIC
According to Naviserv's General Manager Valery Grigoriev,
"The people at NETRONIC are very easy to work with, and we were able to get their software up and running in no time. They know what they are doing and they are the best partner to work with in the NAV channel when it comes to visual scheduling."
And Mr. Rassolenko concludes:
"NETRONIC Software GmbH has helped us in our planning a lot. We would highly recommend its Visual Scheduling Suite to other companies who are facing similar problems as we did.".